The forces of nature—earth, air, fire and water—are more nuance than violence on a day-to-day basis, but the results are magnificent. The wind shapes and reshapes dunes endlessly. The ocean carves away at the headland with every changing tide. The eruption of a volcano stuns with its raw power and the energy released by a summer lightning storm cracks the sky with pure power.
When these forces are examined by the artful eye of master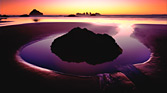 photographers, David & Marc Muench, and set to music by Steven Halpern, one of the most influential contemporary keyboard artists of the last 30 years, the result is breathtaking. Every frame of this DVD Digital Art Show™ reveals the awesome power of our planet and the primal forces that endlessly shape it.
Fascinate your guests at parties, relax to the serene beauty and soothing soundtracks, or polish your photography skills with detailed photo notes. Accompanied by the magical and healing music of New Age keyboardist Steven Halpern, you'll play this disc again and again as nearly 300 images provide a constantly changing backdrop for entertaining, meditation and your own personal enlightenment